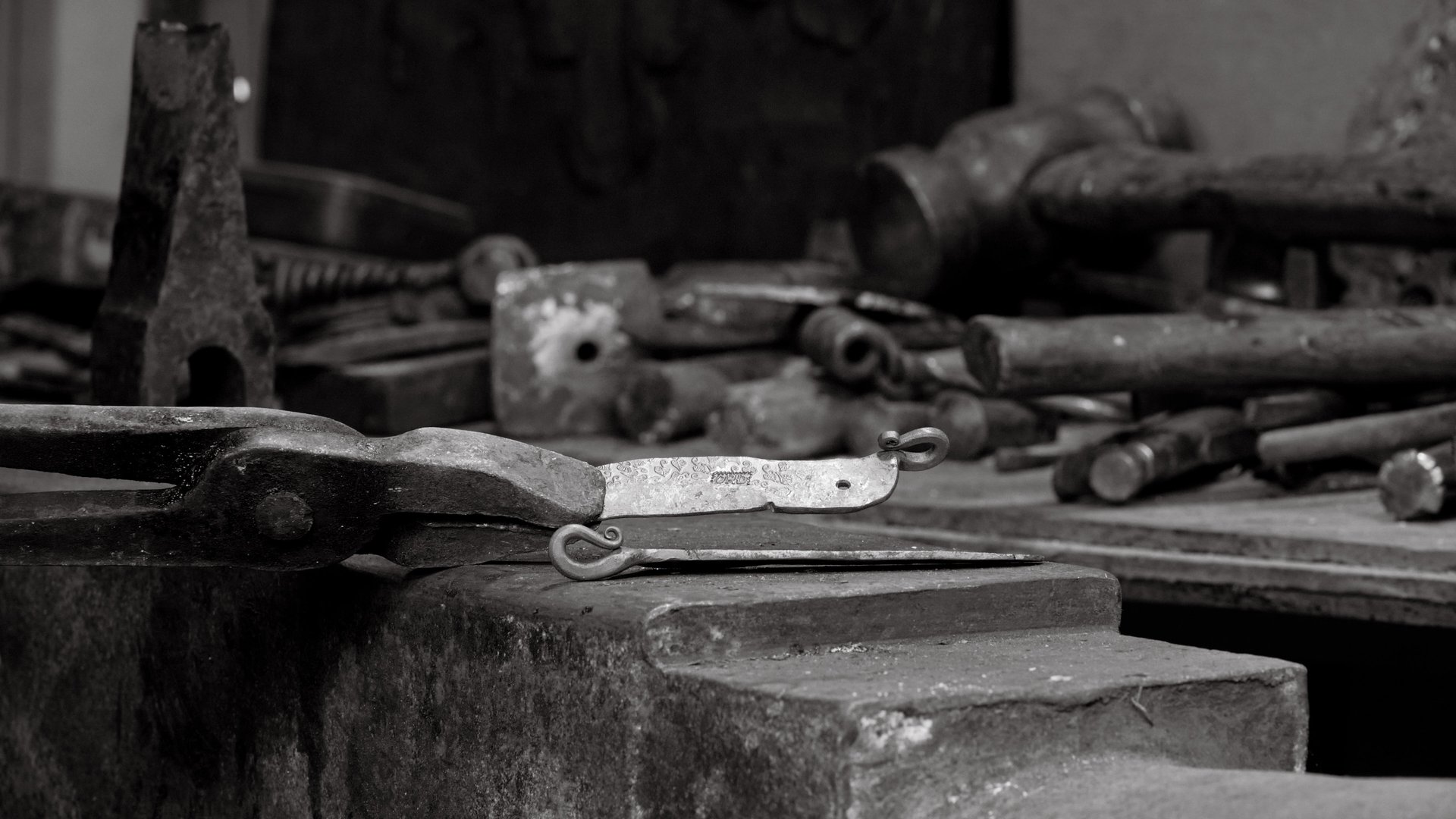 I make all parts of the knives myself from start to finish, forging the blades and carving the handles, working on my own in a small workshop in Devon.ORD are my initials. "Ord" also happens to be the Old English word for sharp things made of metal, as well as the Old Irish name for a hammer.
I'm largely self-taught, learning from books and by experimentation, and by using the knives and tools I've made in practical everyday situations to keep on refining and improving how they work and the process of making them.I started forging almost 20 years ago, after being inspired by a farrier's demonstration. I built myself a coal-fired forge out of an industrial hairdryer, and tried making decorative ironwork like you'd see on the hinges of an old church door. My forging has improved a lot since then, but it's that same spirit of curiosity and experimentation, as well as my appreciation and respect for ancient crafts and traditional, functional beauty, that results in the kind of knives and tools I make today.
I make the knives from the raw materials by hand, never buying in readymade, machine-made parts. This gives each knife an organic, handcrafted appearance, and I much prefer the direct contact and individual journey through each piece that these methods invite.I use new and salvaged metal (brass, copper, iron, steel sheets, rods and tubes), and I like to use high-carbon, low alloy steels because they make excellent, easily sharpened blades which can be hardened and tempered very accurately by traditional means, without a temperature controlled furnace or sending the blades off to be heat treated. I like to make the whole thing myself!
A good deal of the British wood I cut and season myself to get the best features in the wood such as the ripples found in the grain at branch junctions, burr and spalting. The tropical woods that I use are mostly re-claimed pallets and furniture and generously donated off-cuts from wood-turners.I use antlers from red deer, roe, fallow and sika deer. The antlers are either dropped from the deer naturally or as part of the sustainable management of British woodlands.
For the knife sheaths, I use vegetable tanned leather as it can be soaked to be pliable, worked and moulded to the shape of the individual knife and then dyed to any colour.
I make my maker's mark with an etched stamp. Some knives are etched with the customers initials or a decoration. The etching is done by hand using a traditional tar/paraffin wax ground and is scratched through with a stylus. The exposed steel is then etched away with ferric chloride or nitric acid. I make the etch deep for a better and permanent effect.
My aim is to make tools that are satisfying to use, unique in character, and perform well at what they were meant for. This is important to me as it is uncommon to find good honest quality in many products and I want you to enjoy using and owning the knives and tools I make as much as I enjoy making them.
I also make corkscrews, carving tools and small axes, and many of my own tools for forging.